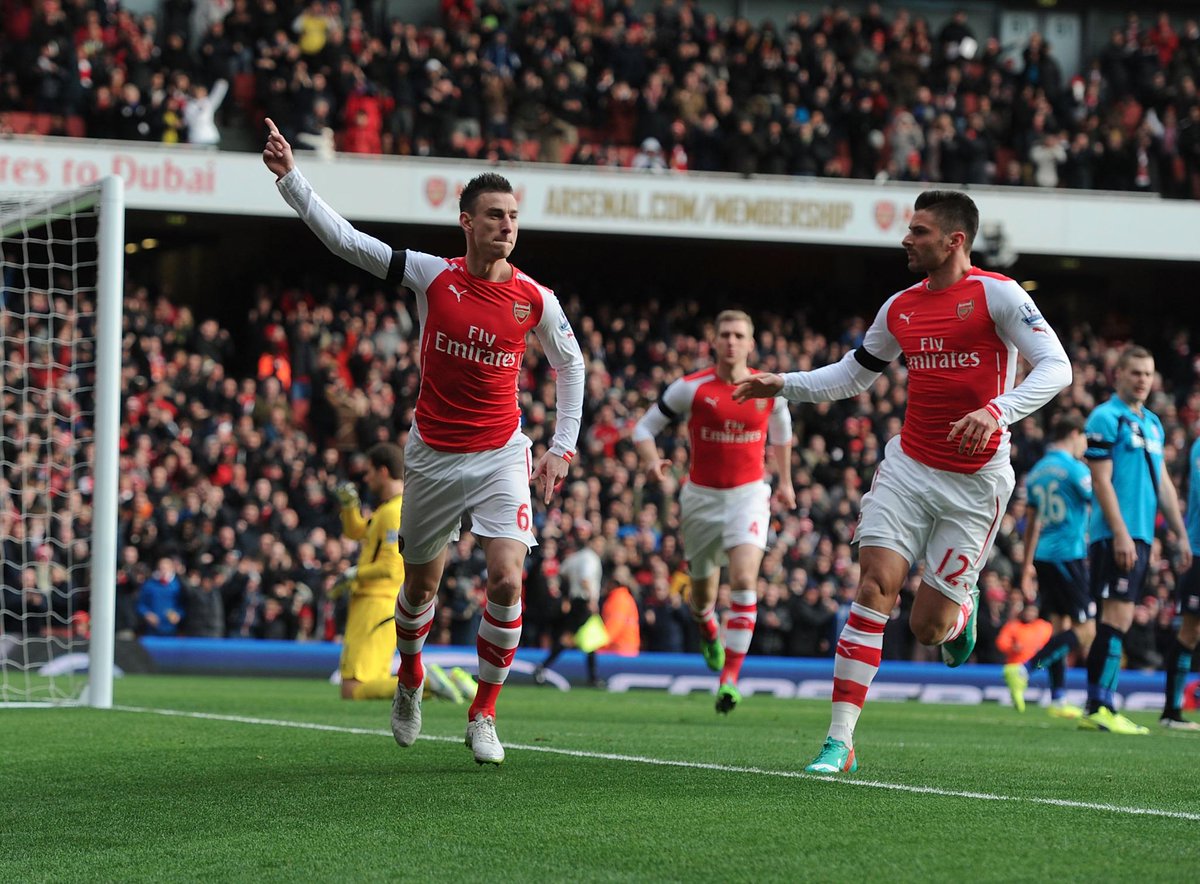 Arsenal triumphed over Stoke City
at the Emirates Stadium on Sunday afternoon. The 3-0 victory against the visitors is what we can term a well-garnished revenge from Arsene Wenger's boys who lost to this same side in December last year.
Laurent Koscielny opened scoring as early as the sixth minute when Alexis' corner was cleared only for the Chilean to send in another cross which Koscielny nodded past Begovic.
It was going to be Arsenal's day afterall and after putting much pressure on Stoke, Alexis Sanchez made it 2-0 in the thirty-third minute. The 25-year-old collected a loose ball, took a run into the box before smashing a shot into the bottom corner of the net. It ended 2-0 at half-time.
Play resumed and not quite long after the second half started, Alexis Sanchez got a third for Arsenal, his second in the game, his 12th Premier League goal of the season and his 18th goal in all competitions at Arsenal. This one came from a low free-kick which went through the wall and then past the Stoke goalkeeper into the bottom corner.
The visitors could have gotten a consolation in the 77th minute when Cameron volleyed into the back of the net but unfortunately for them and fortunately for us, that goal was ruled out. Why? It was scored by someone in an offside position.
We saw the introduction of Theo Walcott and Mesut Ozil who has been out for about two months. Walcott replaced Alex Oxlade-Chamberlain while Giroud had to step down for Ozil. Both had their chances to score
Theo got a one-on-one chance from an Alexis pass but the best he got from that chance was a shot which he placed wide. As for Ozil, an off-target strike was what he could create from Cazorla's through ball.
We recorded an injury to Mathieu Debuchy earlier in the game. Hector Bellerin had to come on for him and at his post-match press conference, Arsene Wenger confirmed it was a shoulder dislocation. Gibbs wasn't in the team at all. He was tested yesterday but wasn't passed fit. The Frennchman also talked about Ozil who made a return as a substitute. Our manager stated that even though the German international is physically fit, he still lacks match fitness. In two to three weeks from now, he should be back to his best.
At the end, Arsenal won 3-0. Stoke got more than they bargained for. We are having the last laugh because it was 3-2 at their end but they couldn't just manage a single goal at our own ground. Clean sheet recorded! Well done Ospina! That was an outstanding performance and I would like to commend all the players for their determination in today's game. They all played well. Alexis..... receive my kiss. Mwaaah!!!! You are a superstar. Not also forgetting to acknowledge the efforts of our Little Mozat, Tomas Rosicky. I am looking forward to more of such results.
Got any views or comments to make concerning the game? You are free to do so by dropping them in the comment box below. We love your opinions.