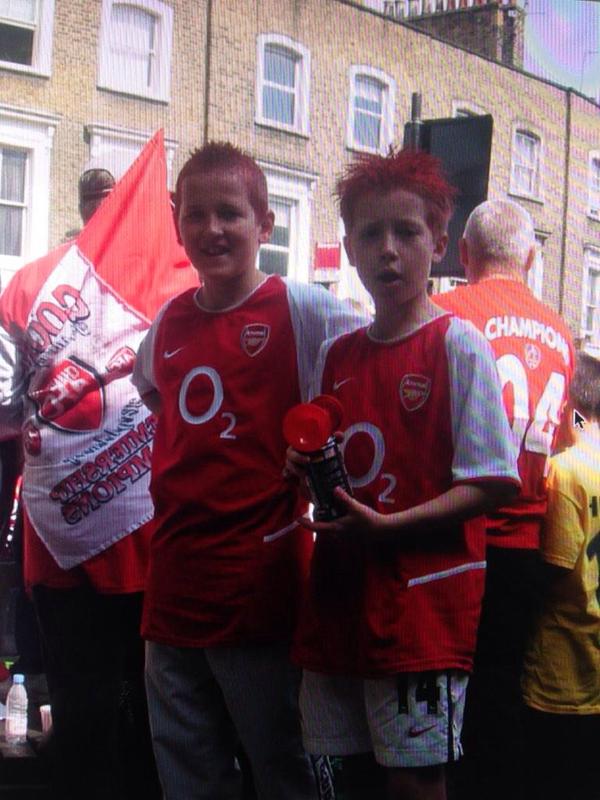 Harry Kane
! I believe that name rings a bell. He is well known as the chief masterminder of Chelsea's 5-3 bashing on New Year's Day. Not forgetting that Arsenal also suffered from his venom yesterday when we lost 2-1 at White Hart Lane having earlier taken the lead. He scored a brace for Spurs in the North-London Derby.
As a young boy, Kane was an Arsenal player. He was once in the Arsenal Hale End Academy before leaving us many years ago when he failed to meet up with expectations. Today, he is someone who is being celebrated especially by Tottenham fans for his fine goalscoring form so far in the present campaign. They even go as far as singing 'He is one of our own' not actually knowing he is Arsenal's own. They realised that when a picture surfaced last month showing the youngster in an Arsenal kit with the rest of his teammates.
Another picture of this man wearing an Arsenal jersey has surfaced. This picture was taken back then in 2004 when Arsenal won the League at Tottenham's backyard. Kane in the above picture can be seen in a joyous mood, celebrating Arsenal's triumph on a street in London. He even tinted his hair red to honour Freddie Ljungberg.
So tell those Spurs fans to stop making some hell of noise over Kane. He had been our own since his childhood days and is still ours. He is an Arsenal fan.