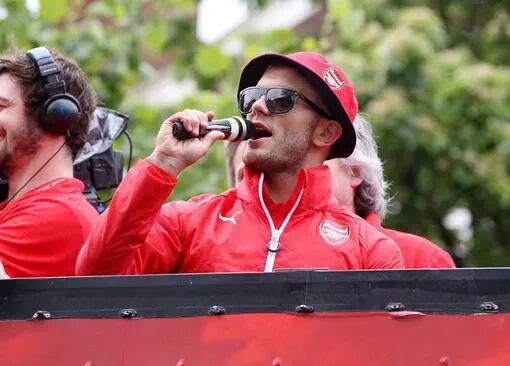 For the second time in two FA Cup victory parades,
Jack Wilshere
raised chants which were aimed at upsetting Arsenal's arch-rivals, Tottenham Hotspur.
The Arsenal first team and staff held an open-top bus tour of Islington on Sunday which saw a lot of fans come out to celebrate their record-breaking win. The team first went to the Town Hall before heading back to the Emirates to meet with the fans who were eagerly waiting in the rain.
In the course of yesterday's event, Wilshere grabbed the microphone and dished out some anti-Tottenham songs in front of thousands of Arsenal supporters who were happy to respond to the chants.
The 23-year-old English international started up his banter by saying: "I have one question, and one question only: what do we think of Tottenham?" and the fans answered: "Sh*t". He then added: "And what do we think of shit?" and the fans responded: "Tottenham".
The crowd then joined in singing the 'We hate Tottenham' chant before reciting: "It has happened again, it has happened again, Tottenham Hotspur, it has happened again". The 'It has happened again" song was meant to tell Spurs that Arsenal have once again finished above them in the Premier League.
It was becoming too much so the microphone had to be grabbed from Jack but he succeeded in retrieving it and said he wanted to sing one more song. It was: 'My old man said be a Tottenham fan...........' which when sang in full contains many offensive words. Arsenal Player who were showing the event live had to end the broadcast at that point and apologised for any offence caused by the midfielder's remarks.
Wilshere was out partying with some of his teammates at a night club where he took much alcohol on Saturday night. They were there till 6am. He was even seen drinking beer before the Arsenal parade started this morning and many think his drunkenness made him act the way he did at the parade.
It would be unfair to say that the Arsenal youth product was acting under the influence of alcohol because he did the same thing twelve months ago when Arsene Wenger's side were on parade with the FA Cup trophy of last season. Or was he also drunk when he took jibes at Spurs last year?
It is still unknown whether the English Football Association will mete out any punishment to Wilshere for his disrespect to Spurs.
Wilshere came as a 77th-minute substitute against Aston Villa, and was involved in the goal for Olivier Giroud in stoppage time, as the Gunners recorded the biggest FA Cup final winning margin in more than 20 years. They also became the most successful club in FA Cup history. Arsenal now have twelve FA Cup titles which no other team has.