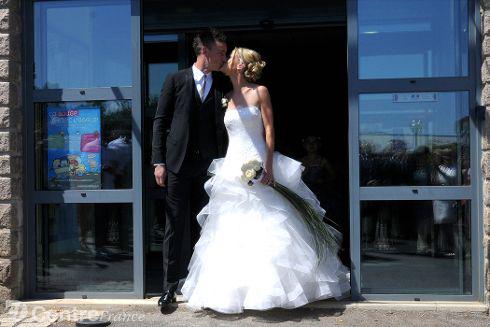 Arsenal defender, Laurent Koscielny got married
to Claire Beaudouin yesterday, Saturday, 20th June, 2015.
It would be ideal if we say that yesterday was the World's Footballers' Wedding Day because it was not only Koscielny who got married. Pedro, Raphael Varane, Ivan Rakitic, Fernando Llorente, Simon Mignolet, Seamus Coleman, Joel Ward, Callejon, Kameni, Abate and Javi Garcia also became husbands on that same day.
It is understandable why it happened that way. Footballers are very busy people, they hardly have time for themselves. The only period they seem to get a breather is when the season breaks. There are times when they still have to work on at the end of the season e.g. when there are international tournaments like the Copa America, World Cup, Euro etc. Now that these guys got the opportunity as there is no ongoing European competition in which they should be involved, they decided to tie the knot.
Koscielny clinged to Claire Beaudouin and they are now one. The wedding ceremony held at Domaine de la Monédière in Meyrignac and many Arsenal and France teammates were expected to grace the occasion.
There are no much pictures from the wedding yet. These ones here were posted by the wife of former Arsenal right-back, Ludivine and some friends.
Sagna's wife posted the image on Instagram with the caption: "Congratulation to one of my favorite couple @clairebeaudouinpriv ate and Laurent. Sorry I couldn't make it . All the best. Love you guys.
We are wishing our boss, a Happy Married Life. Hope you both enjoy your union till eternity. Return better for us next season.