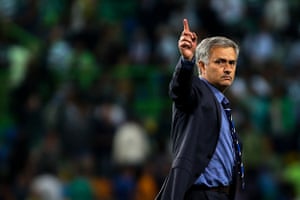 Chelsea manager, Jose Mourinho has once again said something that will spark some controversy in the footballing world. As usual, it was aimed at his longtime enemy at Arsenal.
The Portuguese has revealed his wish ahead of Arsenal's Champions League clash with Olympiakos. However important we might think that the qualification is for the Gunners, Mou does not even care as he wants the Greek side to advance at our own expense.
He was quoted as saying: "They [Arsenal] are in a group where a kid friend of mine is the manager of Olympiakos and it would be fantastic for the kid's career to go through."
"So I have to be honest and say that I would like the kid and Olympiakos to go on, and we know that Bayern go through for sure. The reality is that Arsenal can still do it. Arsenal can perfectly go to Athens and win."
Arsenal do not just have to win when they visit Greece for their last Champions League game in the group stage but will need to do so by a 2-0, 3-2, 4-3 etc scoreline. This is what many have termed 'a mission possible' and in Don Jazzy's and Timaya's voices I say, 'I concur'.
Today, Arsenal will take on Norwich City in the Premier League and to keep their title hopes alive they will have to return to winning ways after dropping five points in their last two league games against Tottenham and West Brom.