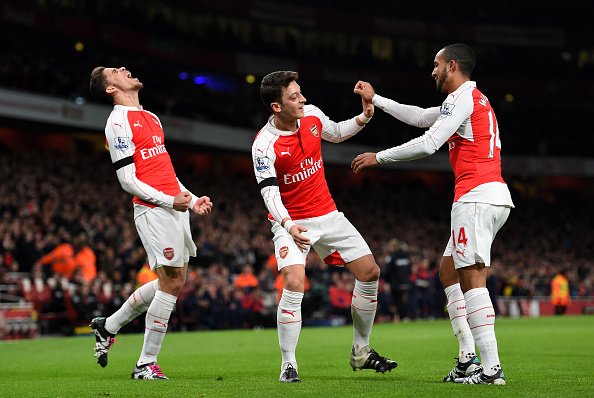 Arsenal were back to winning ways after that humiliating Boxing Day result away at Southampton. This evening, they put up a better performance which saw them record a 2-0 victory over Bournemouth.
Angel Gabriel Paulsita gave Arsenal the opening goal of the game in the twenty-seventh minute after both sides had failed to capitalize on their chances. It was a headed goal from a corner-kick.
The Brazilian defender's goal was his first for the Gunners and it was provided by no other person than Mesut Ozil, the Assist King. That assist took his tally to sixteen in the league, the highest so far.
The first half ended with a 1-0 scoreline and in the second half, precisely in the sixty-third minute, the one who provided the assist to the first goal got his own goal which was supplied by Olivier Giroud. Ozil sent the ball past Boruc to double the lead.
At the end of ninety minutes, it was the hosts who came out victorious as they took away all three points from the encounter. They are now on top of the Premier League table. Whether they will remain there will depend on the outcome of Leicester City's game with Manchester City on Wednesday.
Nice way to respond after falling against Southampton. Also, it's a positive way to end the year 2015. At least they got their title hopes revived. Shout out to Calum Chambers who did not disapppoint in the absence of Francis Coquelin and Mathieu Flamini. Not also forgetting Petr Cech who broke the Premier League's clean sheet record which was previously held by David James. James was able to record 169 clean sheets in 572 games and in today's game, Cech's tally got to 170 in 352 games. Great feat!